Water Safety
Water Safety @ SJA
At Springwood Junior Academy we have both Ulley Reservoir and Rother Valley Country park within a 3-mile radius. We are so lucky to have both of these beautiful areas so close to enjoy and explore both in and out of school. Both areas are wonderful places to visit, you can exercise, hunt for bugs, spot wildlife and enjoy water sports with your family and friends. However, it is very important you know how to stay safe near and in the water.
At Springwood, by Y4 all of the children have been through a swimming programme of at least 12 weeks, helping to develop their swimming skills and take part in water safety lessons.
Tip for parents/carers - One of the best ways to help children learn about staying safe is to talk to them when you're out and about near water. Whether you're walking or cycling, having a picnic or out on a trip to feed the ducks, repeating safety messages regularly will help young children remember what to do
The Safe Rule
Our safe rule is very important helping children to remember to
Stay Away From the Edge. This has been shared with all of our children in assembly and on display around school to remind our children of this important message.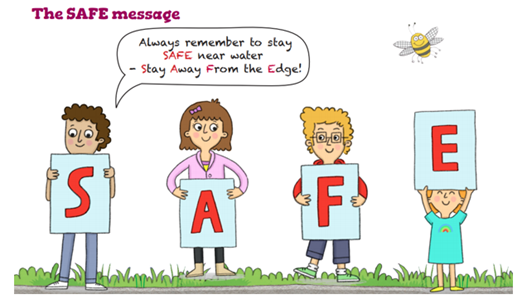 The Water Safety Code
Key Stage 1 & 2 - This video from the Canal and River Trust explains the Water Safety Code in more detail, supports you to spot hazards and shares advice on what to do in an emergency.
As you grow older you may learn to swim and find new ways to enjoy the water. Water can be dangerous, no matter how strong a swimmer you. You should not swim in open water and it is very important to follow The Water Safety Code:
1. Spot the dangers - Look out for any potential hazards. This could include slippery rocks, sharp objects or machines.
2. Take safety advice - Look out for any warning signs around reservoirs, canals and rivers to help you stay safe.
3. Go together - When you are going to be around water, go with friends or a family member. Don't visit the waterways alone.
4. Learn how to help - If you know what to do in an emergency, it will be easier to stay calm.