Reading
Reading
Early Reading
Reading books are banded to match the phonic phases and ensure that children are only reading books that contain the phonemes they have been taught. This will enable the children to read a book fluently with 100% accuracy.
Children will have been taught all the grapheme/ phoneme correspondence of a sub-phase before they can read a book from within that phase. For example, a child will need to know all the phase 2b phonemes before they have a phase 2b book. Once the child is a phase 5f reader they will move on to the Oxford Reading Tree orange banded books.
By the end of Foundation Stage children at the 'expected' level will be reading a phase 3d book fluently and with 100% accuracy. Children who achieve the 'exceeded' grade will be reading a phase 4 book or above.
By the end of Year 1 children at age related expectations (ARE) will be reading a phase 5f book fluently and with 100% accuracy.
By the end of Year 2 children at ARE will be reading phase 6 books and above.
(Children in FS1 will access books if they have completed phase 2a phonics)
The children will complete a 'Read and Repeat' cycle. This means each week each child will take home –
1 phonic reading book at their current sub-phase for them to read to their parents/ carers
1 phonic work book with new phoneme, words, captions and sentences that include the weeks' phonics teaching
1 'reading for pleasure' book for their parents/ carers to read to them to develop a love of reading
When books contain character names or topic words that the children cannot use their phonics knowledge to decode, these words will be taught as 'sight word' or will be read by an adult.
In school children will complete phonics activities to embed the skill of reading in 1:1 sessions. Children will also take part in Guided Reading in small groups.
Class teachers are responsible for hearing pupils read and will monitor progress using tracking grids. The Early Reading Leader (Mrs Flanagan) will monitor the quality and consistency of the teaching of phonics and early reading.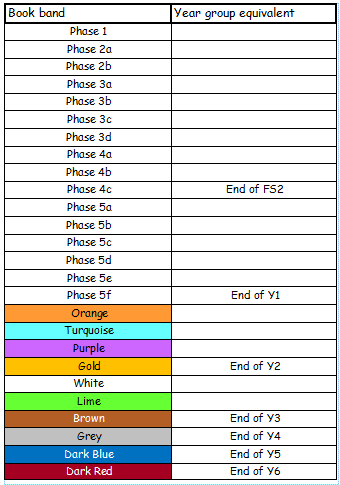 KS2 Reading
At Springwood Junior Academy KS2 children will have daily independent reading sessions using, where appropriate, our colour-coded book band scheme. Below is a table of what colour book children should be reading to be at the expected level for their year group. Please note this table shows the expectation for each year group. However, children will be reading the books that match their reading ability.
Children have access to books from various publishers including Rigby Star and Oxford Reading Tree, giving them the experience of a variety of reading genres including fiction, non-fiction and poetry. They also develop an enquiring mind through shared topic reading and research using a variety of sources including digital.
All children are encouraged to select age appropriate books from the library to share at home with their parents to encourage a love of reading. Once children can read fluently and with a good understanding, they self-select books for independent reading. We seek to enthuse children with a love of reading by organising events such as celebrating World Book Day or participating in Reading Challenges.