Active Travel
WE ARE PLATINUM!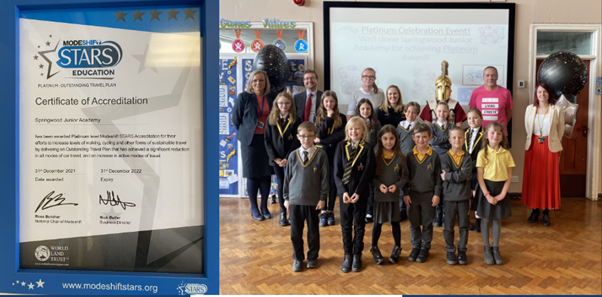 We encourage all our pupils to lead an active lifestyle including how they travel. We teach the children that switching more journeys to 'active travel' will improve their health and quality of life and also support the environment. These are 'win-wins' that will benefit individual people and the Waverley community as a whole.
We are very proud to announce that Springwood has achieved their platinum award to reflect the hard work we have completed towards our active travel. The active travel officers work alongside Miss Smith to deliver monthly badges out, organise events and competitions and ensure everyone is travelling to school actively and safely.
"At Springwood Junior Academy, the Active Travel Committee have worked hard to promote active travel and healthy lifestyles. Through this commitment and hard work, we have seen an increase in the number of pupils actively travelling to school on a daily basis. Pupils have had the opportunity to engage in many an opportunity, that they would otherwise not have been able to, for example scooter skills sessions; learn to ride; bikeability. Road safety has been a priority for Active Travel and we have worked hard alongside the police, RMBC transport and a local councillor to secure funding for a range of initiatives to support this for example the pupil bollards, slow down signs for outside of school, road markings, road safety assemblies etc. We are very proud of the achievements of our Active Travel committee who continue to work hard this year."
Rebecca Malton (Principal SJA)
The 10-day Active Travel Challenge
Each year, we take part in the 10-day Active Travel Challenge where we are tasked with getting more people to travel actively to school over the ten consecutive day period.
Dr Bike Day
To ensure our children can stay active and safe, Laurie from Modeshift Stars visits the academy to help maintain the pupils' (and staffs') bikes. He did a fantastic job at fixing any problems we had. During his last visit he fixed 49 bikes!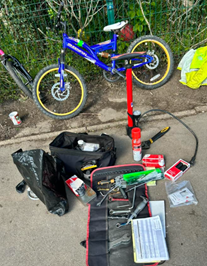 Scooter Skills
Laurie, our active travel officer, came into school and delivered a scooter skills session to Y1/2/3. This help improve children's confidence and love for riding their scooter safely.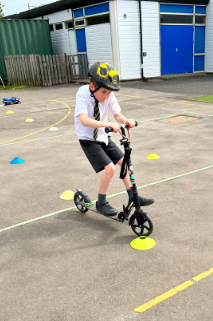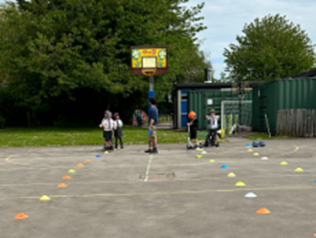 Cycle Skills
Again our active travel officer ran an amazing session for our KS2 children to improve their cycle skills. This helps them to improve confidence and be safe when out and about on the roads.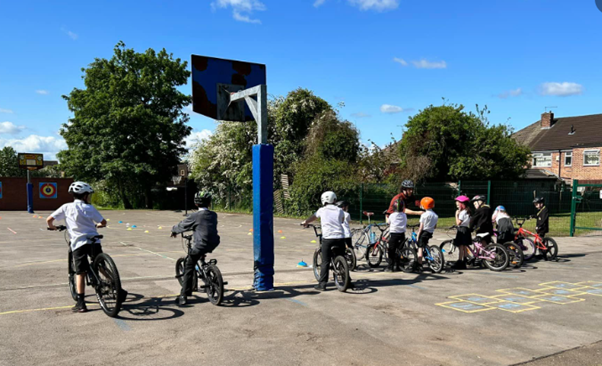 Wow travel link - https://www.livingstreets.org.uk/products-and-services/projects/wow-travel-tracker